06 Feb 2023 21:00:44
Internet safety can feel like quite an overwhelming topic at times, with an ever-changing landscape of technology and a growing number of scams and threats to avoid.
There are a number of simple and straightforward steps you can take to keep yourself safe online. Below, we've listed 5 things you can do right now, to start you off on the right path. Best of all, they're all completely free.
Why stop there though? Find more tips, tricks and advice from The National Cyber Security Centre, Get Safe Online and The UK Safer Internet Centre.
1. Subscribe to data breach emails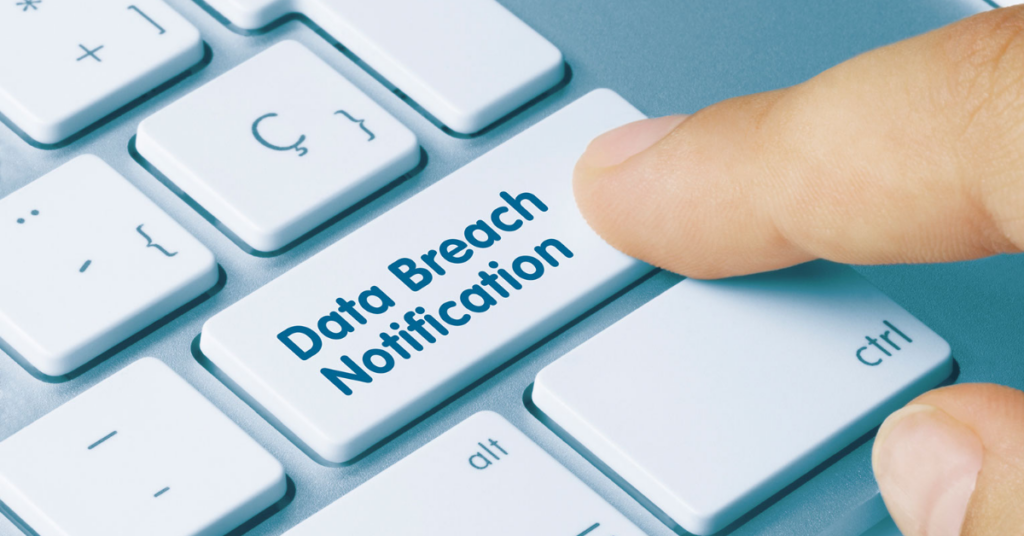 The 'have I been pwned?' website is a simple and free resource that will tell you if you have been put at risk due to online accounts being compromised ("pwned") in a data breach.
Enter your email address and it will tell you which data breaches your account was involved in and offer suggestions on what to do next. You can also subscribe to updates so you can be notified of any further breaches and quickly change your password on the affected account.
2. Set up 2-factor authentication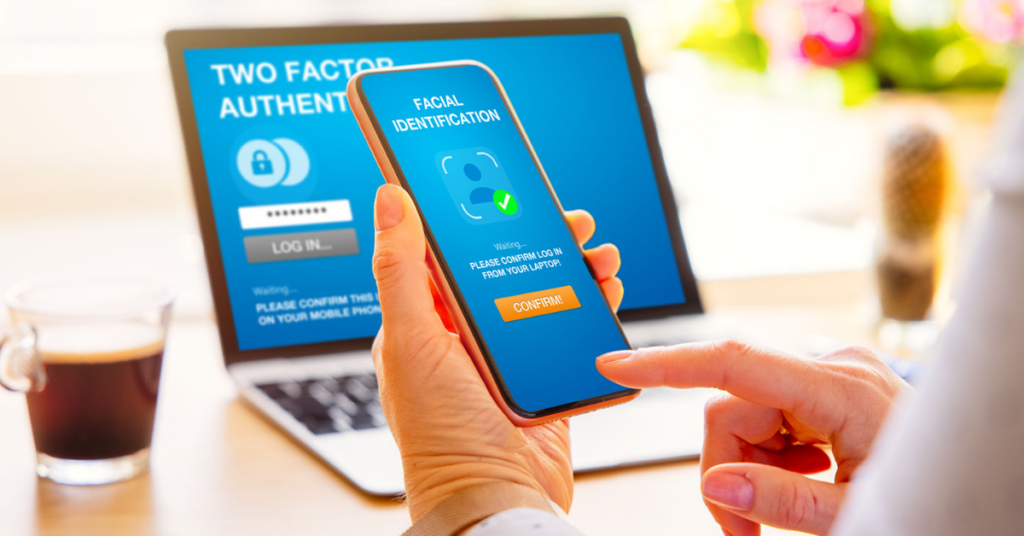 Even if you have strong passwords, you should turn on 2-step verification where possible – particularly important for accounts such as email, banking and online shopping, all of which store sensitive personal information.
By setting up 2-step (also known as 2-factor) authentication, you will need to enter a code, or use fingerprint or face scan technology, to prove that it's really you. It only takes a few minutes to set up and will make you much safer online.
3. Track your devices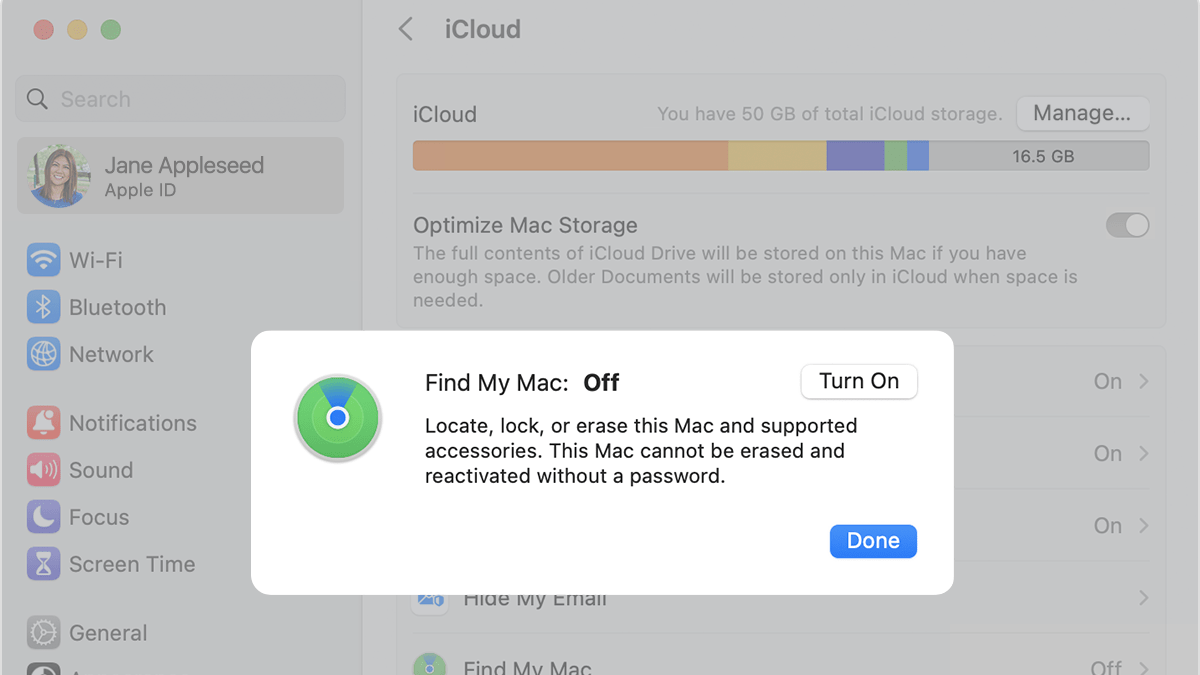 Setting up 'Find My' tracking for your Apple or Android device will allow you to locate it if it's ever misplaced. In the worst-case scenario where the item lands into the wrong hands, you can also erase your Apple device remotely, limiting the amount of damage done.
4. Tighten your online social circles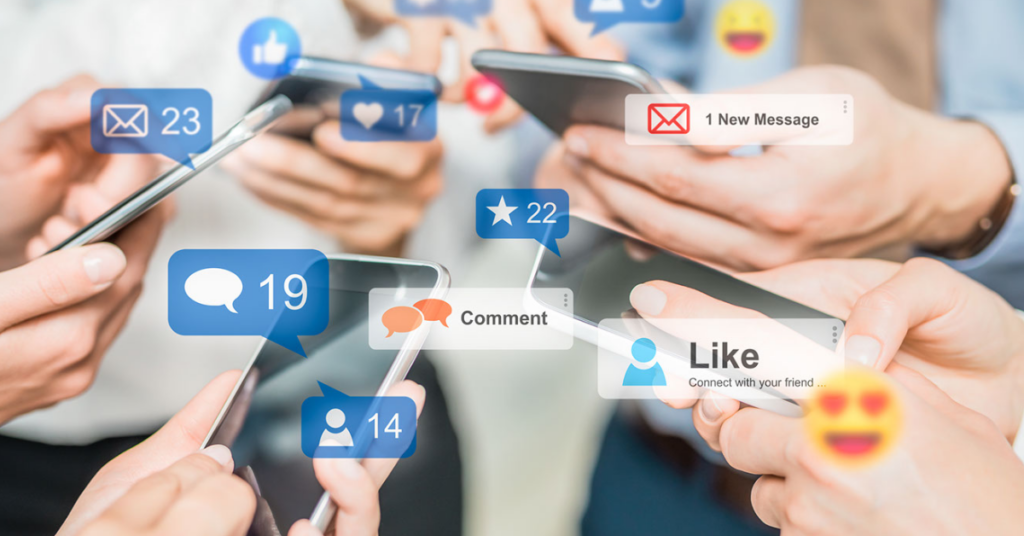 How well do you really know Linda? The woman you met on holiday in 2015 and haven't spoken to since? Now might be a good time to go through your social contacts and make everything a little more 'slimline'.
Keep your accounts private where possible, think carefully about what you post and don't share your holiday photos from the sun lounger. Wait until you're back, so as not to advertise your empty home.
5. Register your portable tech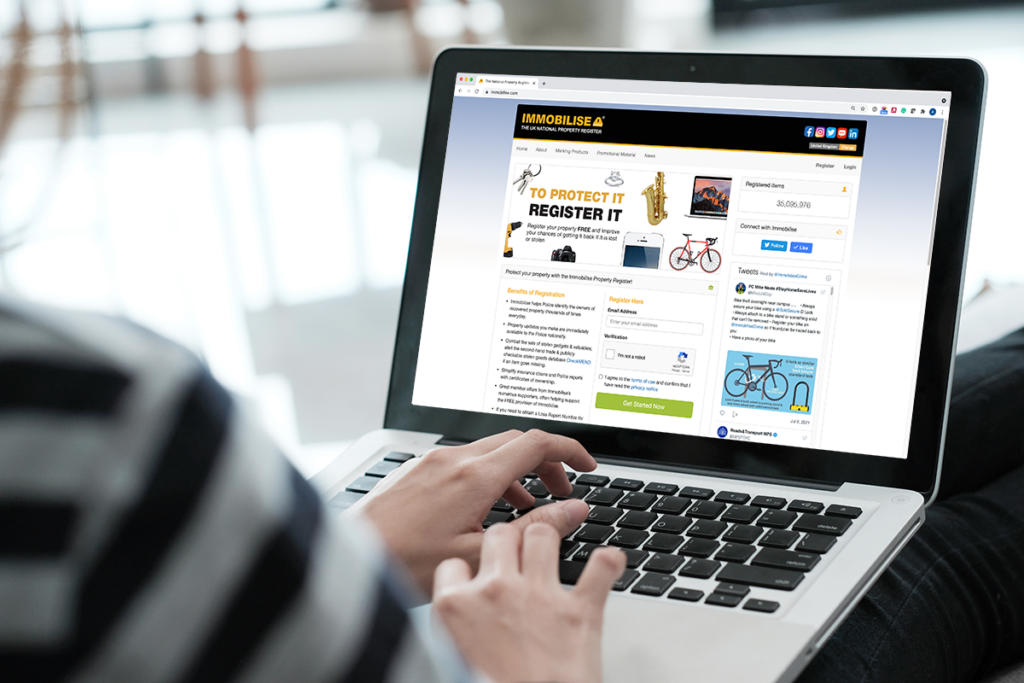 Immobilise is the world's largest FREE register of possession ownership details. It can be used by members of the public and businesses to register valued possessions or company assets. Ownership details are then viewable on the police national property database, available to 40,000+ police officers up and down the country, when they are looking to reunite recovered items with their rightful owners.
Updates are immediately available to the police nationally and you can easily manage your account online, adding or removing items or flagging them as lost or stolen. It can help to simplify claims and police reports with certificates of ownership and could even stop the sale of stolen valuables by alerting sister database CheckMEND if an item goes missing.
All you need to register your tech is the make, model and any unique identifier, such as a serial number.
Register your valuables for free on Immobilise.com.
---
08 Dec 2022 12:47:10
Whilst most see the festive period as a time for goodwill to all men, unfortunately – as anyone who has watched 'Home Alone' will know – thieves don't take annual leave. In fact, long winter nights, festive distractions and busier social calendars can offer burglars more opportunities than any other time of year.
Luckily, there are lots of precautions you can take, without going to the same lengths as Kevin McCallister.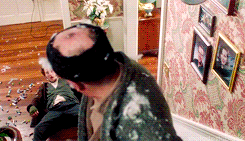 1. Light up your entrances
Twinkling fairy lights don't need to be just for decoration! Any form of outdoor lighting – from a motion sensor security light to dressed-up evergreens – can help protect your home by lighting up the exterior and removing the cover of darkness that thieves love. It makes approaching your home too conspicuous for a burglar.
However, many enthusiastic festive house dressers' common mistake is feeding extension cables through partially open windows; criminals know to look for this vulnerability. When it comes to outdoor lighting, if you don't have an external plug outlet, opt for solar or battery-operated lights instead.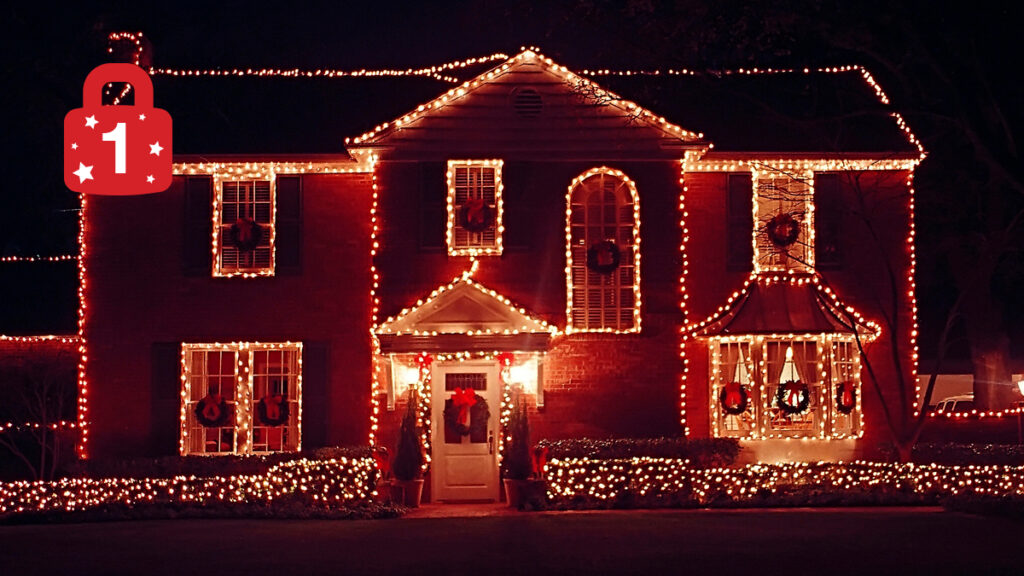 Light up your entrances.
2. Be strategic with your recycling
Bin collections over the Christmas and New Year period are normally at different times. If you can't take packaging to a recycling centre, make sure you only put your rubbish out just before the collection and do your best to fold boxes inside-out so that they don't advertise any new contents of your home to thieves.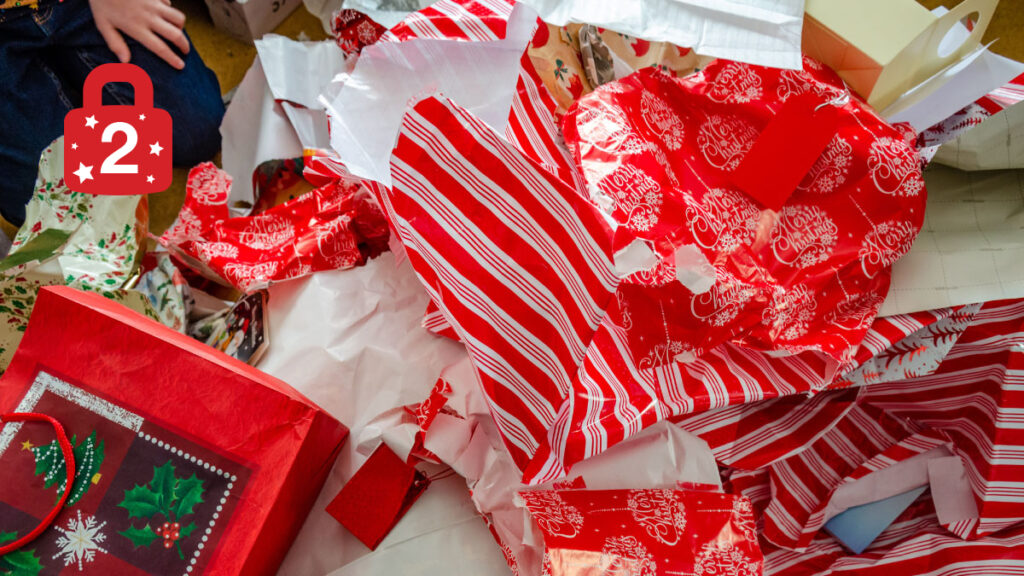 Be strategic with your recycling.
3. Don't advertise your plans
For thieves, social media can be used to scout potential targets. If you usually publish your whereabouts during the holiday season – including any plans to be away from home – do think twice before posting this year, as you could be giving a potential burglar knowledge of when your house is going to be empty. Uploaded photos of pricey Christmas gifts can also be a problem. It's always worth double-checking your privacy settings on social channels and, where possible, keeping your profile private.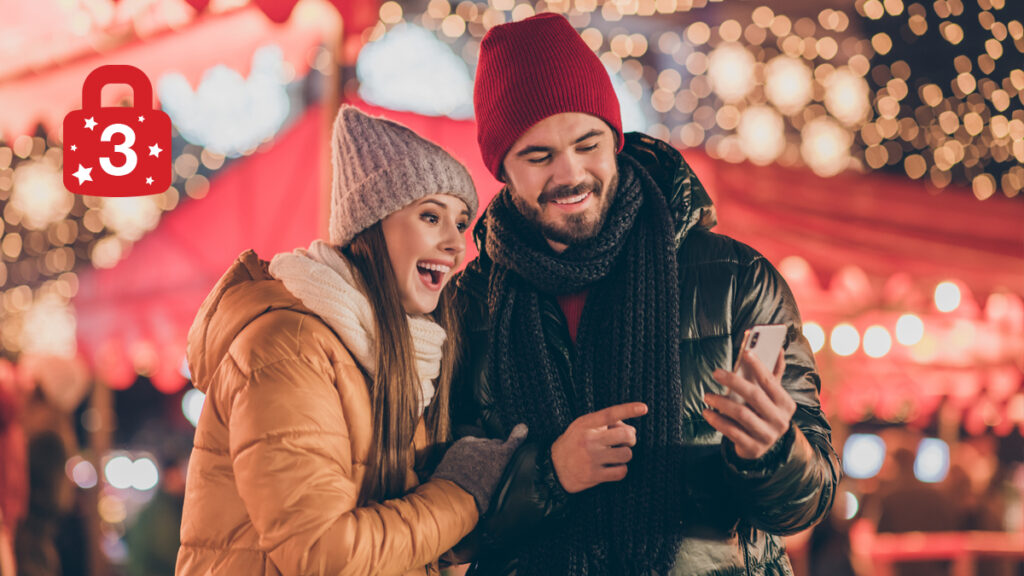 Don't advertise your plans.
4. Check doors and windows for weak spots 
The Office for National Statistics reported in 2020 that windows were used to gain access in 30% of burglaries, so installing a few deadbolts and new window hinges could increase the security of your home. 1 in 7 burglars also walked straight through an unlocked door; where possible, it's worth keeping your doors locked even when you're at home.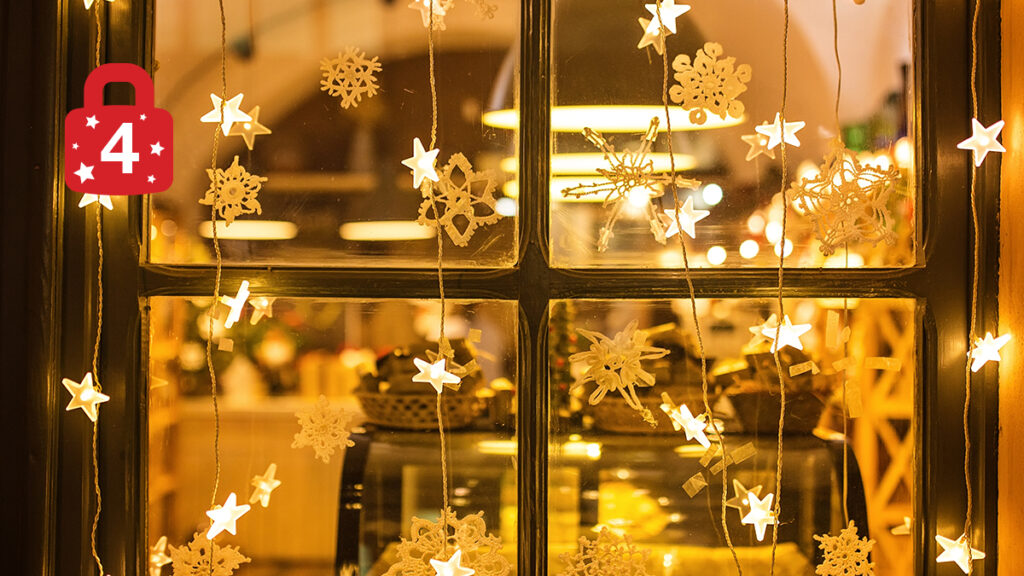 Check doors and windows for weak spots.
5. Keep your curtains and blinds closed at night
If you're going out for the evening, you could use a plug timer on your lights to give the illusion of someone being at home or go one step further and invest in a Fake TV device.
You should also always ensure valuable items are out of sight.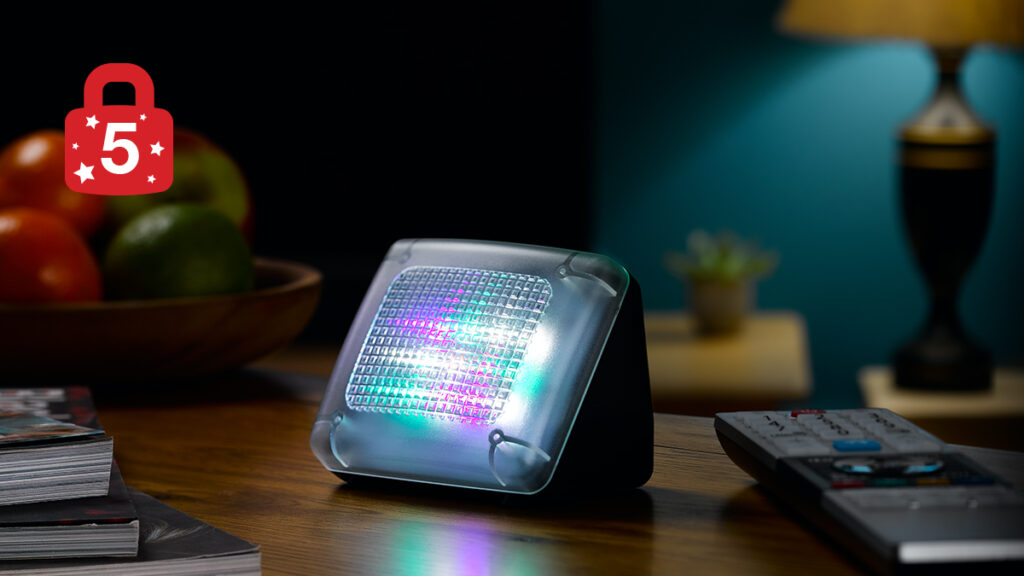 Keep your curtains and blinds closed at night.
6. Deterring would-be criminals is one of the most effective forms of crime prevention
Using window stickers to highlight the fact that your possessions are security marked and registered on Immobilise is a savvy move. It warns thieves that your goods are traceable and not worth the risk of stealing. If you have a security camera, a dog or are a member of a Neighbourhood Watch area, these are also good things to advertise to any unwelcome visitors!
Deterring would-be criminals is one of the most effective forms of crime prevention.
7. Away over Christmas? Plan ahead! 
Be sure to cancel any deliveries. Arrange for a trusted neighbour to park on the driveway to help create the impression someone is at home. As mentioned above, make use of light timers and devices like Fake TVs.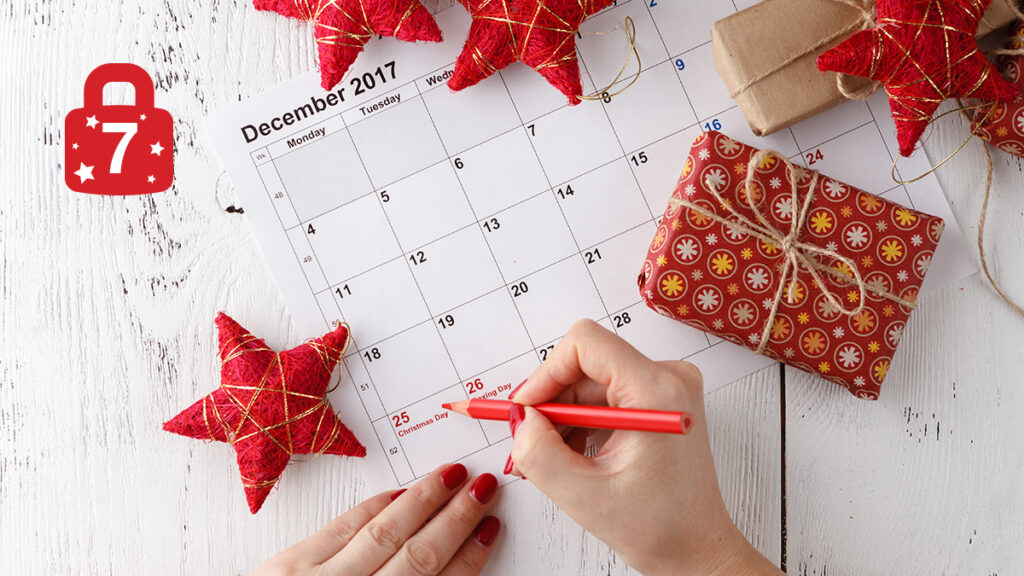 Away over Christmas? Plan ahead!
8. Secure garages and sheds 
Make sure that garden tools or ladders are not left lying around or accessible from an unlocked garden shed; they could be used to force entry into your home. Garages are often targets for burglars looking for tools, bikes and gardening equipment – if you have a garage, make sure it is locked and items such as bikes or tools are secured. Make sure that anything portable or valuable is recorded on Immobilise.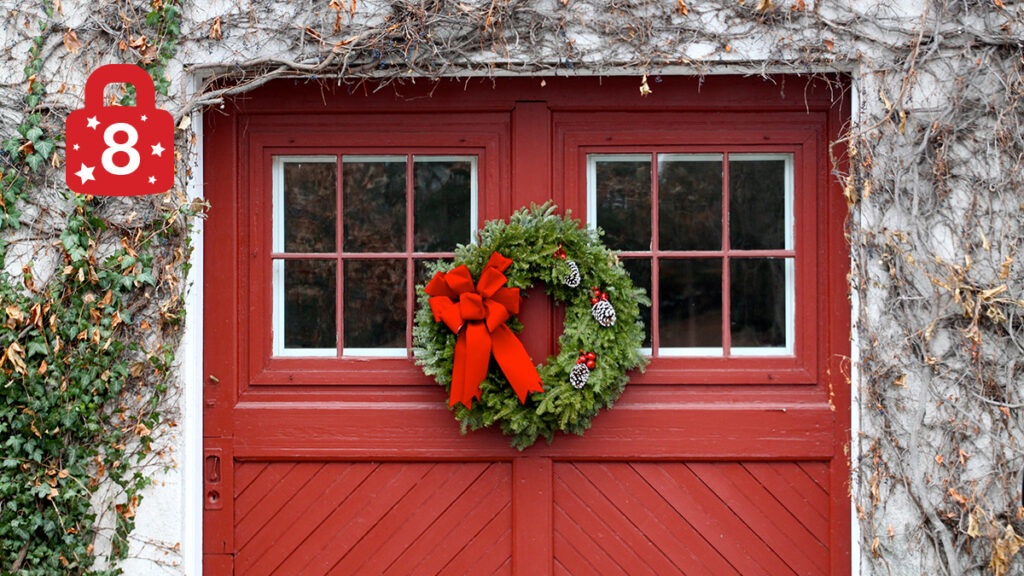 Secure garages and sheds.
9. Don't hide keys, and use alarms if you have them
Burglars know all of the best hiding places for spare keys, so don't put them under rocks, in flowerpots, or above door ledges. Instead, give the spare key to family or a trusted neighbour. Many houses now have alarms; make sure yours is on and protecting your home when you are away or out for the evening, where possible.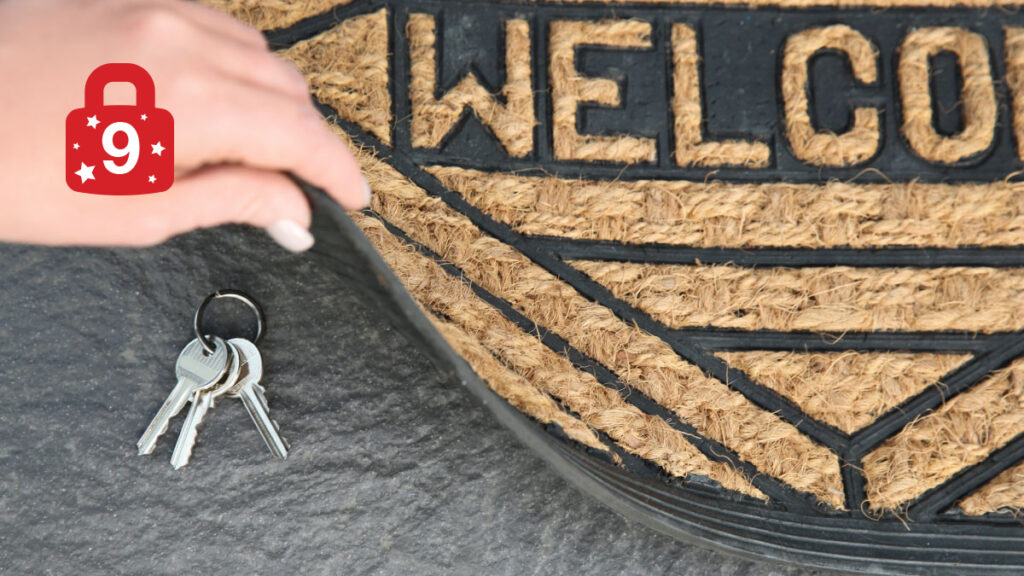 Don't hide keys,
and use alarms if you have them
.
10. And lastly, don't forget to protect your gifts on Immobilise.com! 
Most electricals have a unique code, such as a serial number which can be used to register the item. Mobile phones have an IMEI number, which can be easily found by dialling *#06#.
If your gift doesn't have a unique identifier, there are several affordable marking kits available from the Immobilise store allowing the police to easily identify the owners of items they recover.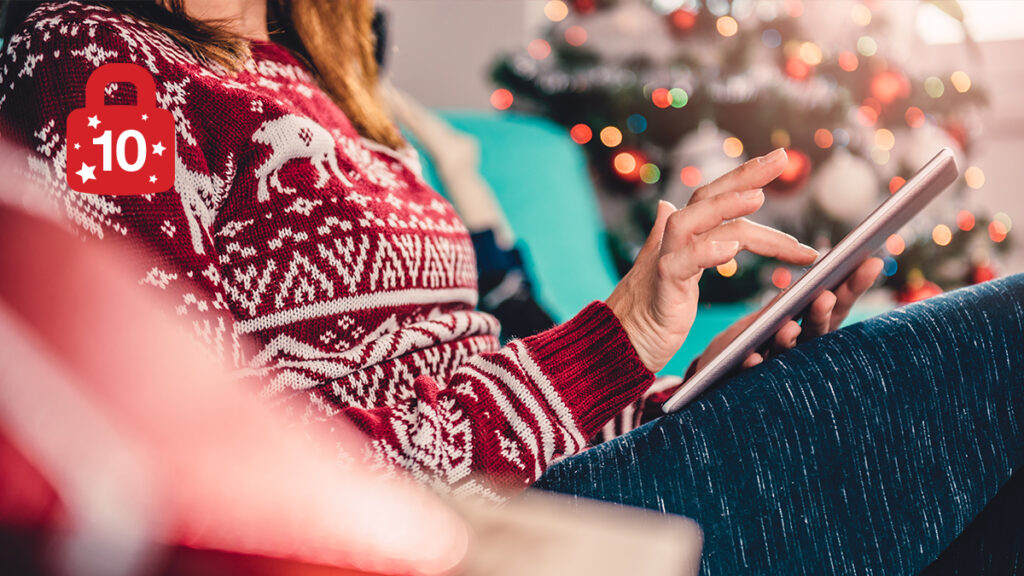 Don't forget to protect your gifts on Immobilise.com.
---
03 Nov 2022 09:54:30
During the lockdowns of the Covid-19 pandemic, you may have seen more of your neighbours (from a safe distance of course!) than you did your own family. Clapping from your doorsteps and soaking in the view of another real-life human.
As time charges on and 'normal' daily life resumes, it's important not to lose those neighbourly connections. Having a strong, close community gives us a sense of belonging. Everyone can also benefit from the added security that comes from living in a close community.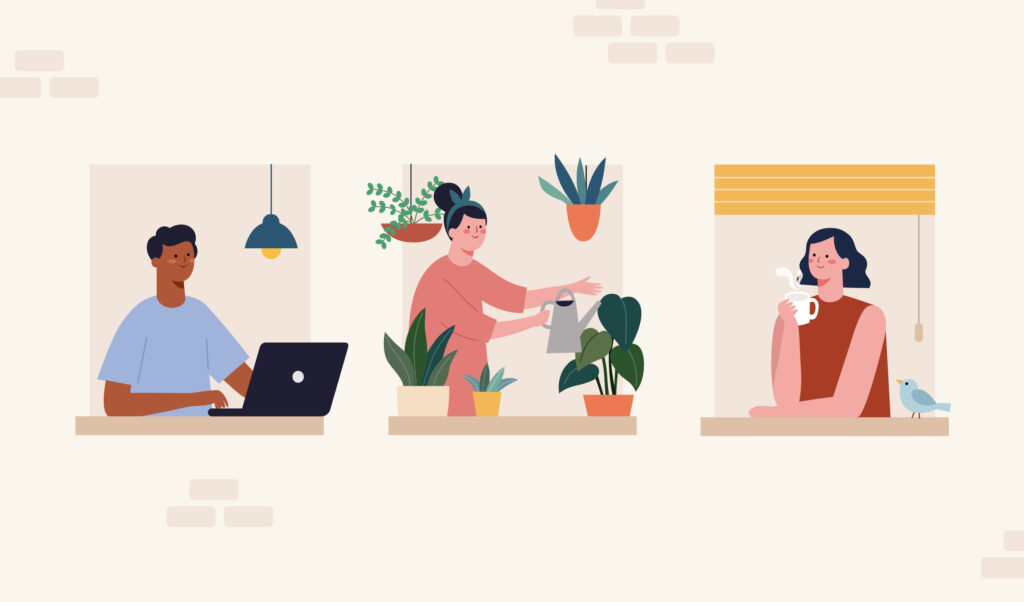 Letting your trusted neighbour(s) know when you're away.
Leave a spare key with them so that they can check on the property and take in any post or deliveries. They may also be able to park their car on your drive while you're away.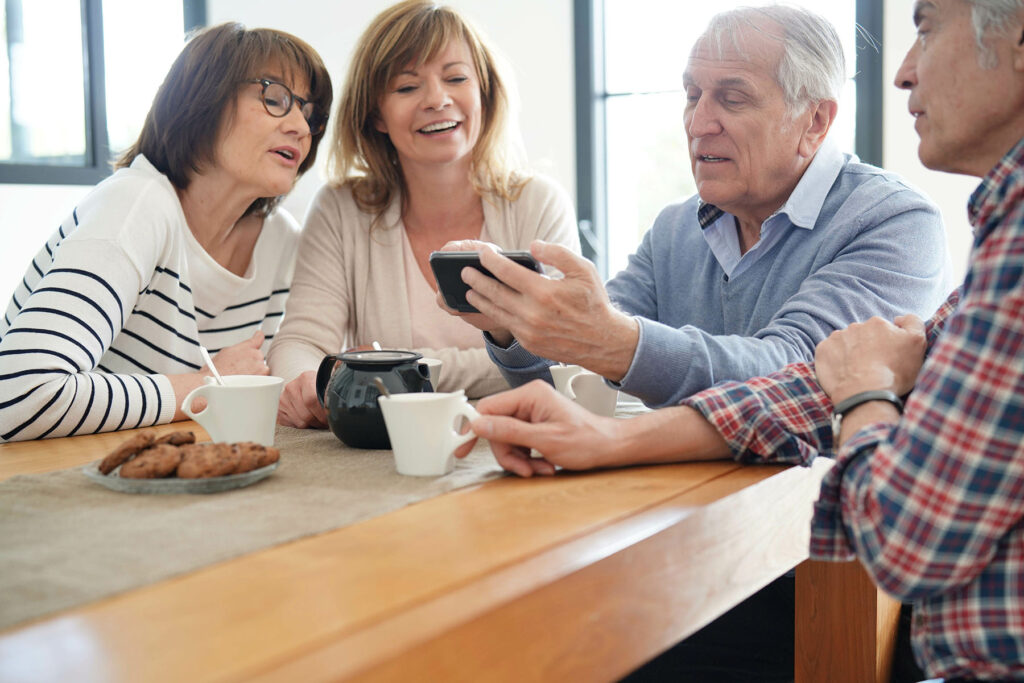 Set up a community Facebook page or WhatsApp group.
They're great for sharing information about suspicious or anti-social behaviour, with the added benefit of getting to know your neighbours better.
Suspicious behaviour to watch out for might include:
Strange vehicles parked up for a lengthy period, returning regularly or travelling slowly up and down your road
Strangers lingering in the neighbourhood
Unknown markings on or near properties; they could be coded markings that burglars use to communicate with each other.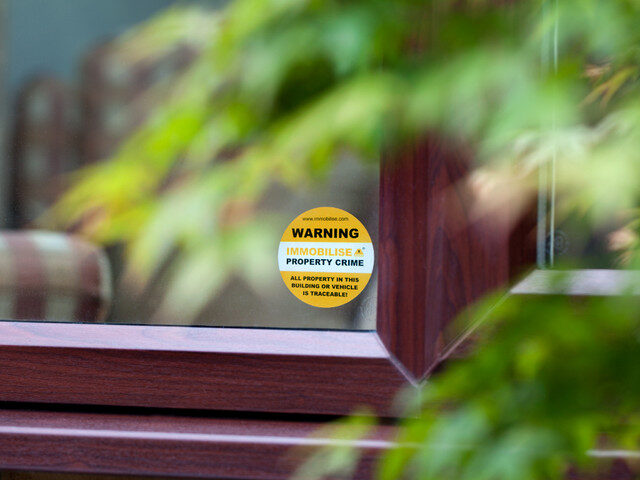 Organise deterrents.
Window stickers and signage warning that your property is protected by CCTV, an alarm system, or even a dog, can help to deter thieves. You could also put up stickers or signs to show that you have marked and registered your belongings, making them more difficult to sell on and therefore less attractive to thieves.
You can mark your valuables by adding your postcode, phone number or any other number that's meaningful to you. Various marking and labelling methods are available, but any mark will help. Keep a record of your belongings, making a note of any serial numbers or unique marks. Take photographs and consider sending them to a friend or relative so there is another copy, or record your items securely on the Immobilise National Property Register. Such registration not only helps Police return your property but may also prevent criminals from easily selling it.
You could club together with your neighbours to buy signage or share a property marking kit to help protect your belongings. If you have elderly or vulnerable neighbours who aren't able to register their own items, you could help them to do it.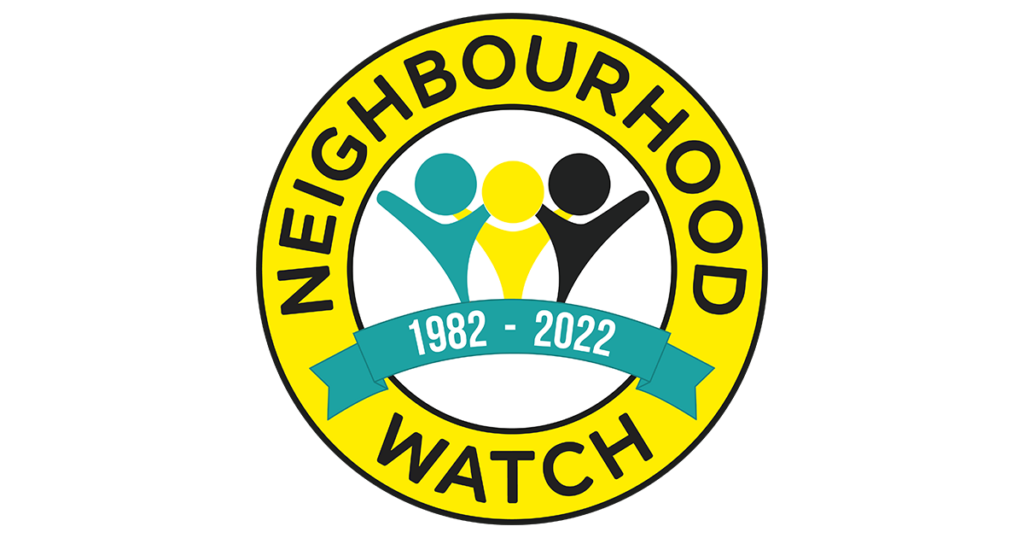 Join the local Neighbourhood Watch.
You can search the Neighbourhood Watch website to locate your nearest group, or start your own. Becoming a member gives you access to a whole host of crime prevention tips, ready-made campaigns and toolkits.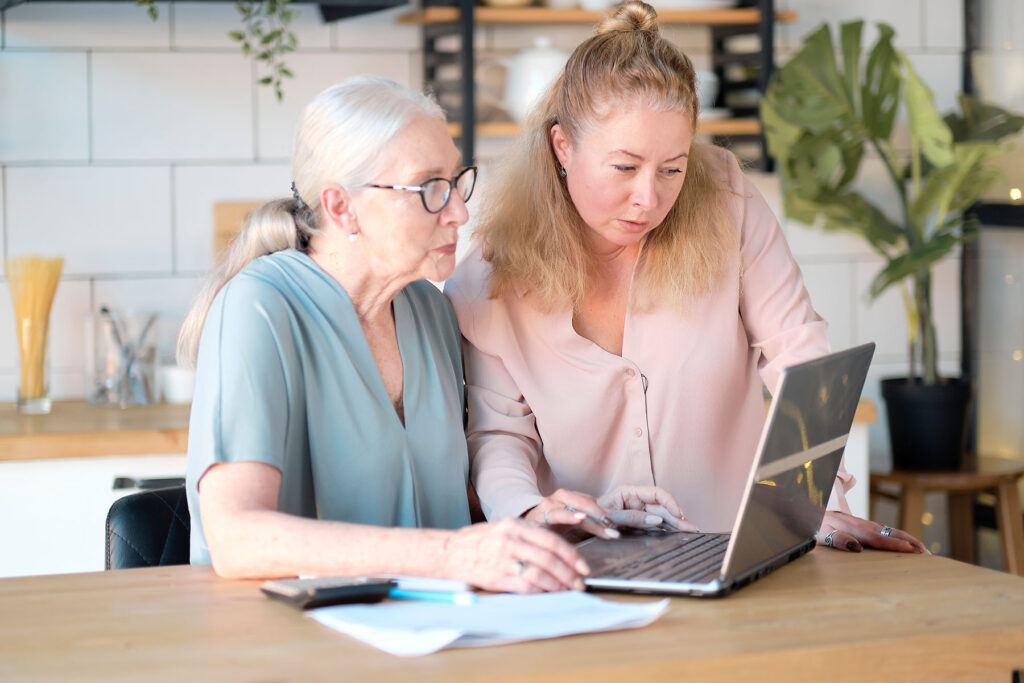 Do your bit.
The most important thing you can do is look out for one another. If you have elderly or vulnerable neighbours, those chats over the hedge, or offers of help – however small – become even more important. Discuss security measures with your neighbours and if someone isn't able to organise signage or fit a security light, offer to do it for them.
---
26 Oct 2022 15:35:29
Items registered (for free) on the Immobilise database are then visible to over 40,000 police officers who can check for matching records when they recover lost or potentially stolen goods.
The team at Recipero work closely with police forces up and down the country to help publicise the benefits of marking your property.
In Essex, burglaries have fallen by half in the last three years, but their police force are always looking at ways to help prevent and reduce the risk of crime even further. We were therefore delighted to help them launch their 'Make Your Mark' campaign.
There are simple things we can all do to make our homes and businesses even safer. Property marking deters thieves, can aid in prosecutions and help with any ownership disputes.

We would recommend marking any item that is of value to you either financially or sentimentally.

– Chief Superintendent Leighton Hammett
(Essex Police Force Lead for Crime Prevention)
For more information on how property marking works, the different methods you can use, the recommended items to mark and how to register them for free on Immobilise, visit www.essex.police.uk/MakeYourMark
---
26 Oct 2022 08:21:34
National Home Security Month takes place throughout October each year and we're very proud to once again be supporting the campaign.
We also thought it was a great opportunity to crunch some numbers and look more closely at the impact of Immobilise and our wider Crime Reduction Ecosystem.
A big thank you to our 24 million + users, for registering over 35 million items so far on the UK's national property register. It helps police to identify the rightful owners of recovered property, combats the sale of stolen valuables and simplifies insurance claims and police reports.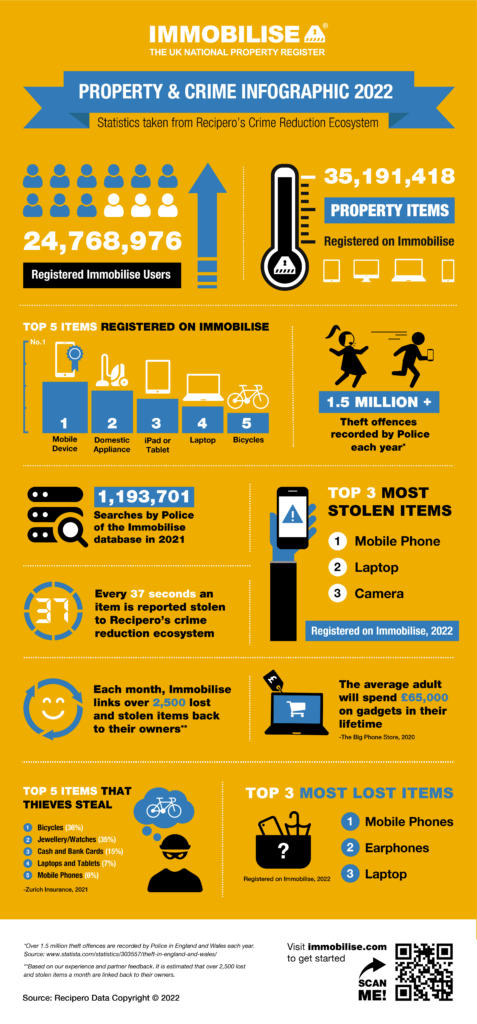 ---
21 Sep 2022 11:49:00
It may surprise you that according to the National Union of Students, as many as one in five students fall victim to property crime whilst at college or university. 
Thieves know that student residences are full of expensive gear; laptops, tablets, phones, bikes and cameras provide rich pickings. In fact, the average break-in costs £900 to repair the damage and replace belongings.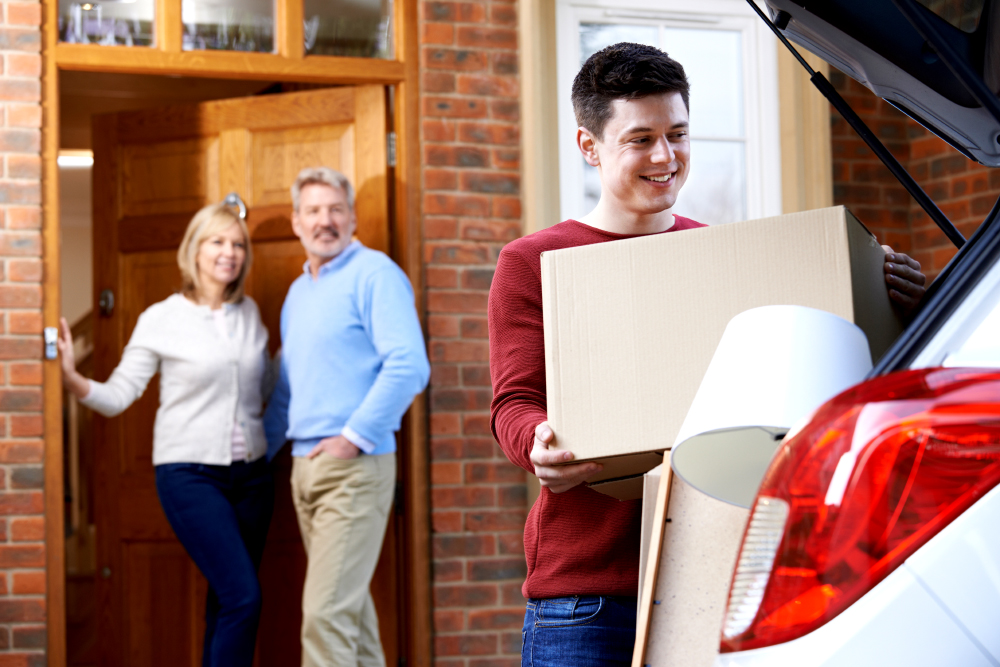 A lot of theft is opportunistic – a few simple steps can be enough to make thieves think twice and move on. 
When you go out, make sure all windows and doors are locked. It's an obvious one but double-check!
Check windows for vulnerabilities. Make sure they're robust, secure and fitted with locks. If they're not, speak to your landlord or letting agent. 
Don't advertise your valuables to thieves. Ensure your valuables are not visible through windows. 
Register your possessions at Immobilise.com. It's FREE and provides the simplest way to return your property if found after loss or theft. 
Keep your gate shut and bolted at all times. Ensure bins don't make it easy for burglars to climb over walls or fences. 
Simulate occupancy with light timers or products like a FakeTV. 
Get insurance. It is tempting to save money, but it's a false economy. Make sure it covers all your stuff. 
Bikes should be kept in the school's designated areas and secured with a D-lock to an immovable object such as a ground-mounted loop. Don't forget to register the bike at Immobilise.com
Registering your property at Immobilise.com is FREE. You can register property irrespective of any 3rd party labelling used; it's all accepted!
For 20% off all Immobilise marking products, including TV Simulators and Bike Security Tags at shop.immobilise.com, use code BACKTOSCHOOL22 at the checkout. Discount valid until 31st October 2022.
---
04 Aug 2022 13:17:36
1. Lock all of your doors, not just the front! Including (if applicable) your garage door, side gate and shed, all of which can sometimes be overlooked.
2. Ensure all of your windows are secure. Be aware that some windows have winter and summer settings; the summer setting can be more vulnerable to tools such as crowbars. You can check for yourself by placing a piece of paper behind the seal, closing the window and pulling at the paper. If it's difficult to remove and perhaps tears, the window is in winter mode. If it slides out gently, it's in summer mode. There should be a screw mechanism on the side of the window that you can use an Allen key to adjust.
3. If you have a CCTV system or house alarm, test them to ensure they're working properly. These are a great deterrent and could play a significant part in catching out any thieves. False alarms and cameras can also be bought to make burglars think twice.
4. Use automatic timers on lights, or other technology such as our TV Sim to make the house seem more lived-in from outside.
5. Ask trusted neighbours to check in or help out, collecting post or parking their car on the driveway every so often. If they're very kind, they might also water your garden for you!
6. Don't hide your spare key under your mat; use a key safe.
7. Ensure valuables are out of view from the windows.
8. Register your valuables on Immobilise – it helps police to identify the owners of recovered property, increasing your chances of your belongings being returned to you. It also simplifies insurance claims and police reports, with certificates of ownership available via your account.
9. Cancel all of your regular deliveries.
10. Don't advertise your holiday on social media, as tempting as it may be!
---
01 Aug 2022 12:47:02
Over the years, a number of solutions have been developed to help people keep their luggage safe while travelling. Many people use padlocks or combination locks and some choose to have their suitcases wrapped at the airport if they're flying, but there are other things you can do to help protect your precious cargo.
1. Keep your belongings as close to you as you can, especially in busy places. If you're carrying a backpack or shoulder bag, bring it round to your front where you can keep a closer eye on it.
2. Consider using luggage that is bright or bold in some way (or securely attach a bright ribbon to an otherwise plain case), making it easier for you to spot it on the carousel.

3. You can register your luggage items on Immobilise.com to help increase your chances of being reunited with them if they're lost or stolen. This can be as simple as adding your name, address and a code to your luggage tag and using those details to register it. If items are visibly marked by a wraparound label, or asset labels though, it also helps to deter thieves.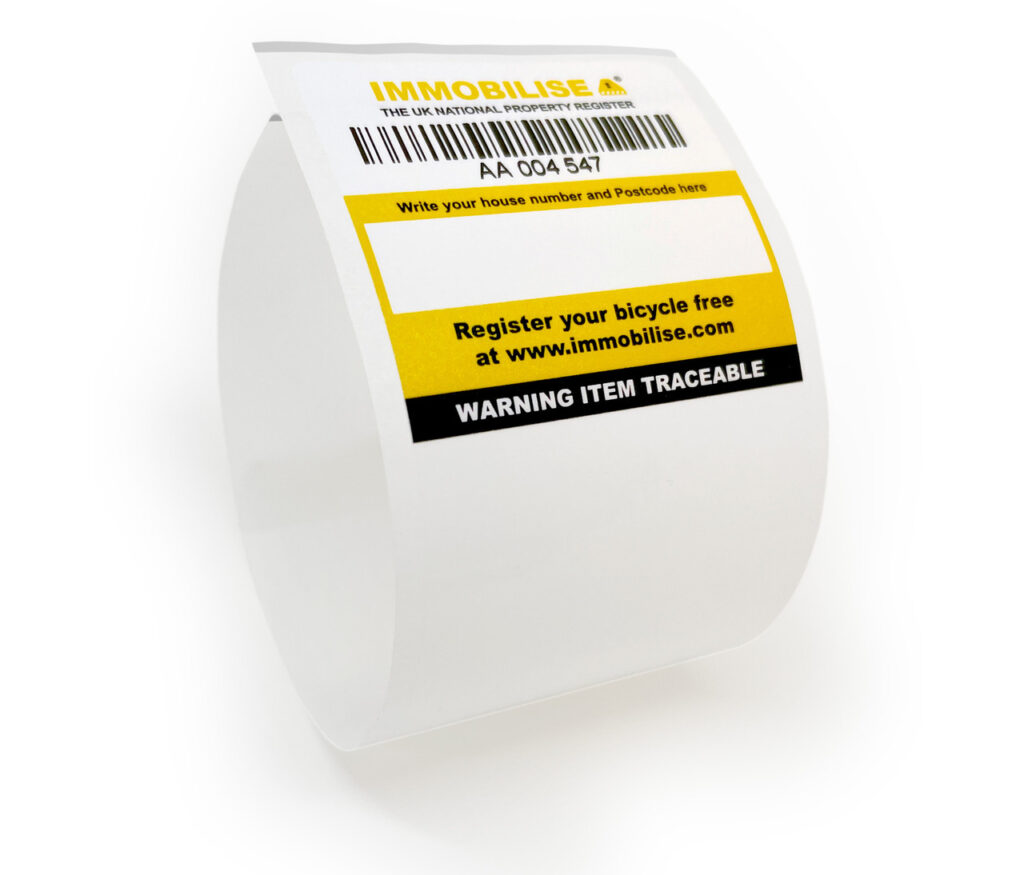 4. Take photos of the contents of your bags – this could help with an insurance claim if anything does happen to your luggage. If there are individual items that you're registering on Immobilise (jewellery, watches, portable games consoles, for example) you can also add photos of them to the Immobilise database at the same time, alongside a description.
5. Alternatively, the ImmobiTag is a tiny security chip (just 11mm long!) that can help to protect pretty much anything. It's a covert device that could be glued inside your case, giving it a unique identifier that could be registered on Immobilise. A warning label is also provided to make it clear to any potential thief that your luggage is protected in this way.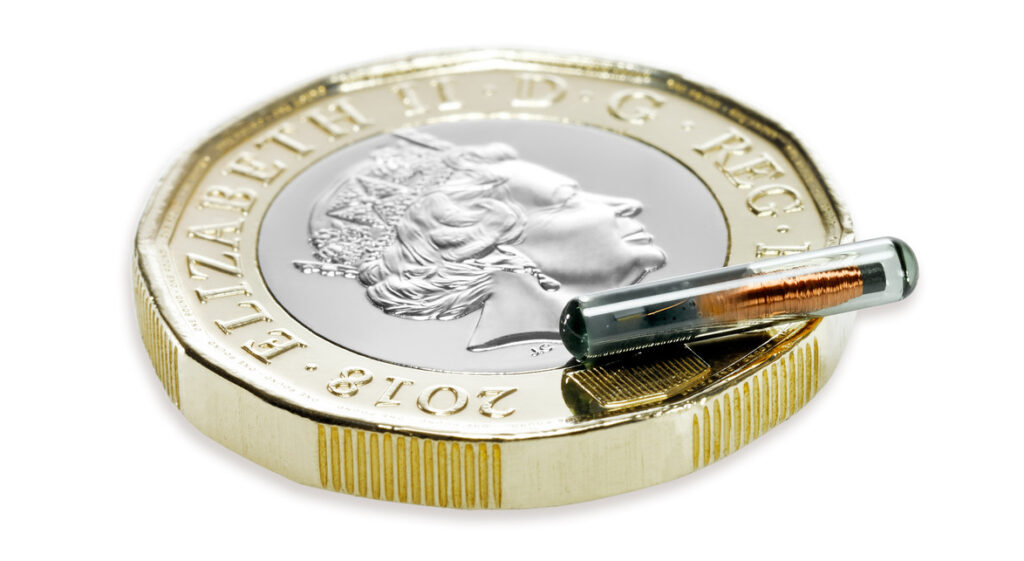 6. Purchase travel insurance, ensuring that theft is included on your policy. It won't prevent you from being a victim of theft while travelling, but it will give you peace of mind that you could replace your belongings if the worst was to happen.
7. Finally, it's worth packing a spare outfit or two in your carry-on luggage if you're flying, just in case there's a delay in being reunited with the rest of your luggage. Even if you're going somewhere lovely and warm, pack a jumper for the chilly airport terminal!
Consider separating your sources of cash too, rather than keeping it all in one bag or wallet.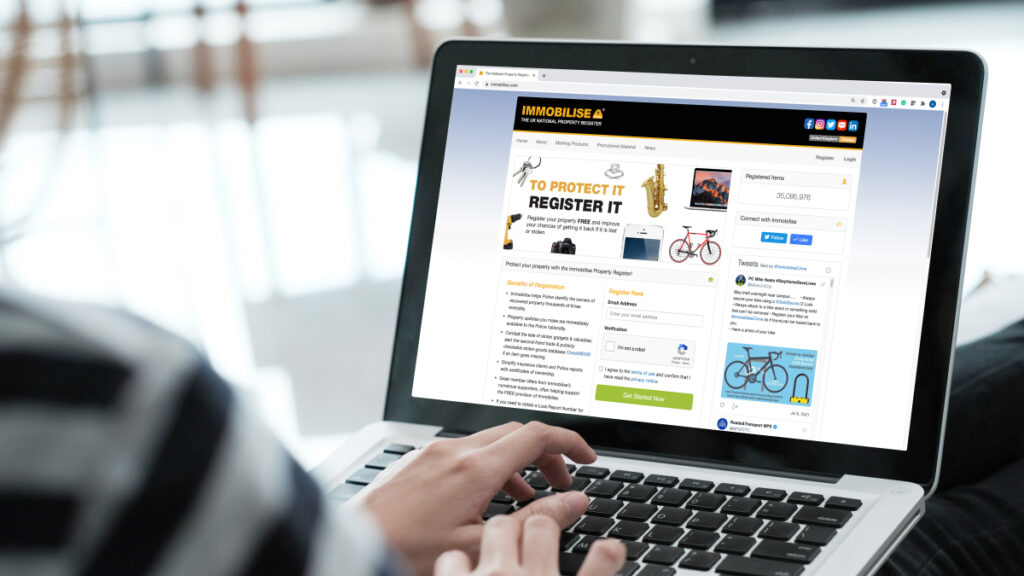 ---