13 Dec 2016 16:00:37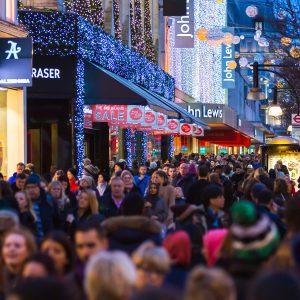 Christmas is an exciting and hectic time especially when it comes to shopping. Unfortunately, the festive season is also a time of increased crime particularly in busy shopping areas providing rich-pickings for pick pockets and other criminals!
Best practice whilst out shopping
Put cash and cards away safely (not in your back pocket) before leaving the till or cash machine. Try not to keep all your valuables in one place, especially your phone – Should your bag be lost/stolen at least you can still call for help!
Use debit or credit cards where possible in place of cash, only withdraw what you need so you avoid carrying large amounts.
Shield the keypad when typing your PIN when making payments or withdrawing cash. If you see anything suspicious alert the bank or call the police on 101.
Don't make it easy for thieves by hanging bags on chairs. If you're having a well-earned break keep your bag and shopping in sight.
Keep an eye on your phone, be wary of leaving it behind at tills, coffee shops or dropping it. Make sure the IMEI is registered on Immobilise! Simply dial *#06# to get its unique number.
Avoid openly wearing expensive jewellery and watches in crowded/public places. Registering them with photographs and descriptions, plus details of any engraving will help identify them as yours.
Park vigilantly in an open, well-lit area. Visit parkmark.co.uk for details of approved carparks (Park Mark is a Police Crime Prevention Initiative).
If you must store presents in a car make sure they are out of view and that the car is securely locked. Receipts should be stored separately.
Be vigilant – As always please remain alert and report suspicious activity to the police on 999 if a crime is in progress, 101 in a non-emergency or Crimestoppers anonymously on 0800 555 111.
Please share these tips with family and friends
For more crime prevention tips and news from the Immobilise team and our partners please follow Immobilise on Facebook or Twitter.
---
12 Sep 2016 15:03:35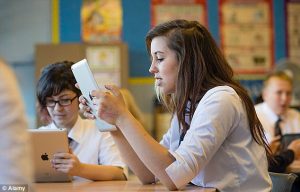 When the school gates opened for the new term, its estimated that under 16s' bags contained over £3.2 billion worth of tech – a staggering average in excess of £270 per school bag*. Such high values intensify issues associated with loss and theft requiring students to be ever more cautious.
To stay safe and secure we recommend …
Students shouldn't leave their smartphones, cameras, iPods and tablets unattended, and when not in use they should be kept secure in a locked bag or locker.
Don't show off expensive devices, especially in public spaces. Children and young teenagers make easy targets for unscrupulous thieves.
Ensure gadgets are registered on Immobilise,  recording the make, model,  and any serial codes but most importantly for smartphones the IMEI number – for mobiles just key in *#06#  on the handset to display the IMEI.
Bicycles should be kept in the school's designated areas and secured with a D-lock to an immovable object such as ground mounted loop. Don't forget to register the bike on Immobilise and consider enhancing the registration with an ImmobiTag RFID tag.
* Statistics sourced from USwitch Survey: USwitch
This post is an extract from our regular email updates that contain other crime prevention tips and topical news along side special offers and discounts on items in our Immobilise property marking and security products. (Go to: https://shop.immobilise.com/)
To subscribe please update the preferences in your Immobilise account: https://www.immobilise.com/login 
---
21 Dec 2015 16:15:24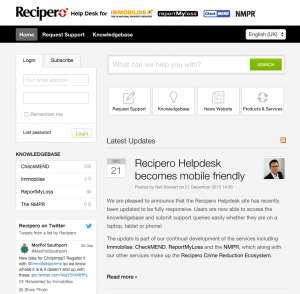 We are pleased to announce that the Recipero Helpdesk website has recently been updated to be fully responsive. Users are now able to access the knowledgebase and submit support queries easily whether they are on a laptop, tablet or phone!
The update is part of our continual development of the services including Immobilise, CheckMEND, ReportMyLoss and the NMPR, which along with our other services make up the Recipero Crime Reduction Ecosystem.
Users continue to be able to email support via the usual addresses published on each of of our product sites if they prefer. However we recommend creating support requests via the support portal, as the solution to many queries may be automatically suggested which in many cases, can answer  queries straight away!
To visit the site now please go to: support.recipero.com
---