18 May 2017 10:49:52
Online shopping has rapidly become the easiest way to buy goods. With only a click of a button or tap of a screen between us and our next purchase, it's no wonder that 95% of British people buy goods via the internet. According to Th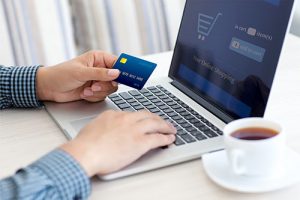 e Daily Mail, 1 in 4 British people now shop online at least once a week, although this way of shopping is more convenient it does increase our exposure to fraudulent activity.
By this, I mean that although you may feel 'safe as houses', sitting at home on your laptop browsing your favourite sites, you can't be quite as confident that what your buying is completely legitimate. There are more and more scams to be aware of and avoid especially when buying or selling any mobile devices in the second-hand market.
Many great bargains can be found in online auction and classified ad sites, and in turn you can, as a seller, make some money on the items you no longer need. It's true what they say 'one man's rubbish is another man's treasure'.  However without knowing the seller is reputable, it is very hard to be confident that a device is genuine or compromised. One well established way to put your mind at rest is to purchase a CheckMEND report.
A CheckMEND mobile device check costs as little as £0.99p per device and can help inform your buying decision by reporting on a devices current status and history including if it is blocked, marked as lost or stolen, plus many other important data checks. It's like getting a clean bill of health when your device comes back clear, a green flag to proceed!
If you are selling an item, it is a great idea to sell it with a CheckMEND history report to build trust with your customers, achieving faster sales and higher prices in the process.
Trade with confidence when buying or selling second-hand goods, run a CheckMEND device check now.
---
08 May 2017 12:29:38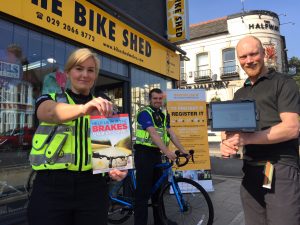 South Wales Police and 'The bike Shed' in Pontacanna have teamed up for a new initiative to reduce crime in the Cardiff area using The UK National Property Register 'Immobilise' to its full potential.
The very first 'Registration Station' is now in operation for anyone who purchases a bike or takes it in for repairs or servicing. There is a conveniently set up station in the store where you can register your bike there and then. It's quick and easy and a perfect solution to encourage people to protect their property.
Registering your bike on immobilise means you are more likely to get your stolen property returned to you. The Police have a direct link via the NMPR to be able to quickly and easily trace the rightful owner of the property and if found stolen can make convictions much faster. According to Cycling UK, a bike is stolen every 90 seconds in Britain. Despite this, only two percent of bike owners bother to register their bike to aid its recovery.
Richard Landsdown, from The Bike Shed, said:
We are delighted and very keen to be kick-starting the initiative in Cardiff and truly believe that this is the most positive anti-bike theft initiative that we have found. Thousands of bikes will be registered with us this year and the Immobilise station is accessible to everybody in store. The more people who register, the harder it will be for bike thieves.
Les Gray, Commercial Director for Immobilise, said:
We are pleased to support this initiative that benefits bike owners and reduces crime. It's a great example of responsible retailing and pro-active policing – ownership registration within the shop will ensure the quick and easy process is made even more convenient and captured at point of sale or service.
To update your account or register on Immobilise now please go to: www.immobilise.com
---
13 Dec 2016 16:00:37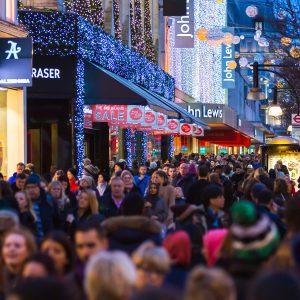 Christmas is an exciting and hectic time especially when it comes to shopping. Unfortunately, the festive season is also a time of increased crime particularly in busy shopping areas providing rich-pickings for pick pockets and other criminals!
Best practice whilst out shopping
Put cash and cards away safely (not in your back pocket) before leaving the till or cash machine. Try not to keep all your valuables in one place, especially your phone – Should your bag be lost/stolen at least you can still call for help!
Use debit or credit cards where possible in place of cash, only withdraw what you need so you avoid carrying large amounts.
Shield the keypad when typing your PIN when making payments or withdrawing cash. If you see anything suspicious alert the bank or call the police on 101.
Don't make it easy for thieves by hanging bags on chairs. If you're having a well-earned break keep your bag and shopping in sight.
Keep an eye on your phone, be wary of leaving it behind at tills, coffee shops or dropping it. Make sure the IMEI is registered on Immobilise! Simply dial *#06# to get its unique number.
Avoid openly wearing expensive jewellery and watches in crowded/public places. Registering them with photographs and descriptions, plus details of any engraving will help identify them as yours.
Park vigilantly in an open, well-lit area. Visit parkmark.co.uk for details of approved carparks (Park Mark is a Police Crime Prevention Initiative).
If you must store presents in a car make sure they are out of view and that the car is securely locked. Receipts should be stored separately.
Be vigilant – As always please remain alert and report suspicious activity to the police on 999 if a crime is in progress, 101 in a non-emergency or Crimestoppers anonymously on 0800 555 111.
Please share these tips with family and friends
For more crime prevention tips and news from the Immobilise team and our partners please follow Immobilise on Facebook or Twitter.
---