22 Oct 2021 15:16:06
Humberside #police are doing a great job getting important seasonal crime prevention & safety advice out to their communities, and well worth a read.
https://www.bridlingtonfreepress.co.uk/…/humberside…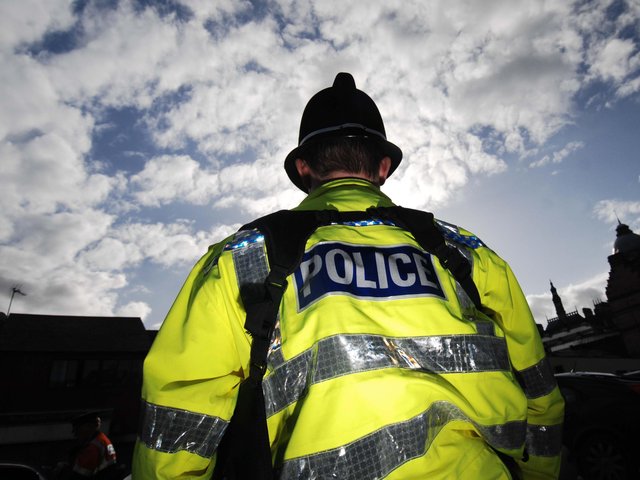 Humberside Police @Humberbeat
#ImmobiliseCrime #PropertyMarking #CrimePrevention #HomeSecurity
---
20 Oct 2021 14:58:04
So you've heeded all the advice to secure your home and your property.
You have window locks, high-security doors, unobscured entrances, lighting, an alarm system, valuables stored out of sight, tools, and equipment stored in locked sheds and garages.
Sadly, even the most security-aware can still become victims of theft, only to discover the aftermath can be as frustrating and painful as the event itself. The Police and insurers will ask for details of any missing property, and it is here that many find themselves unprepared, complicating claims and prolonging the stress and inconvenience.
Police recover an enormous amount of stolen property each year, but the majority is impossible to repatriate because there is no way to trace the owner. The result is that valuable, treasured possessions end up going to auction or even being destroyed.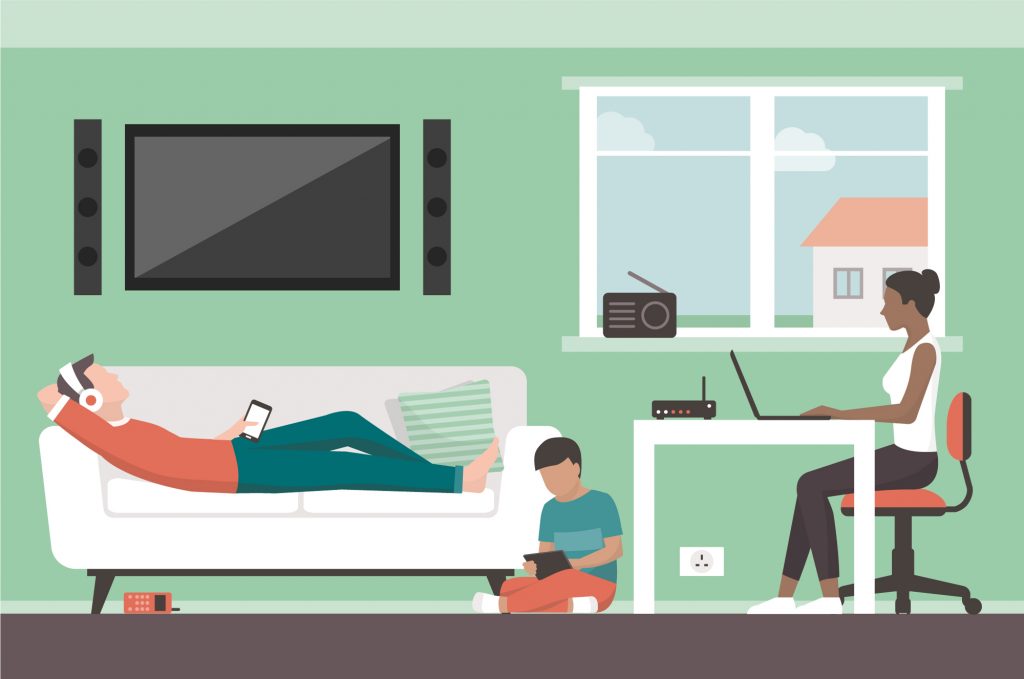 Our homes are full of treasured valuables and a target for thieves.
To avoid these pitfalls, here are some simple actions you can take:
Make a habit of recording your purchases: photograph items, unique marks, and any serial numbers, including the original purchase receipts. Send the pictures to a friend or family member so you have more than one copy or record them securely on the Immobilise National Property Register – immobilise.com. Any police report or insurance claim will be more effective and faster to complete when you have this information to hand.
Mark items: add your postcode, your phone number, or some other number meaningful to you. Various marking and labeling methods are available, but any manner of mark will help – it doesn't have to cost anything.
Register items: Consider registering your items on a police-connected database. Visit your local constabulary website for recommendations in the loss and theft section. Such registration not only helps Police return your property but may also prevent criminals from easily selling it.
For more home security information visit:
https://www.homesecuritymonth.com/category/nhsm-blog/
To register and protect valuables visit:
https://www.immobilise.com
---
12 Oct 2021 09:30:09
When it comes to home security, the front door continues to be a leading target for potential break-ins. According to data from the Office for National Statistics, 76% of domestic burglars in England and Wales accessed a property through a door, and in 24% of cases where entry was gained, the door was unlocked!

Opportunistic thieves have been using different tactics to break into homes, including lock snapping and various tools to gain access. And so, having a front door lock that meets specific standards set by professional institutions will help prevent break-ins.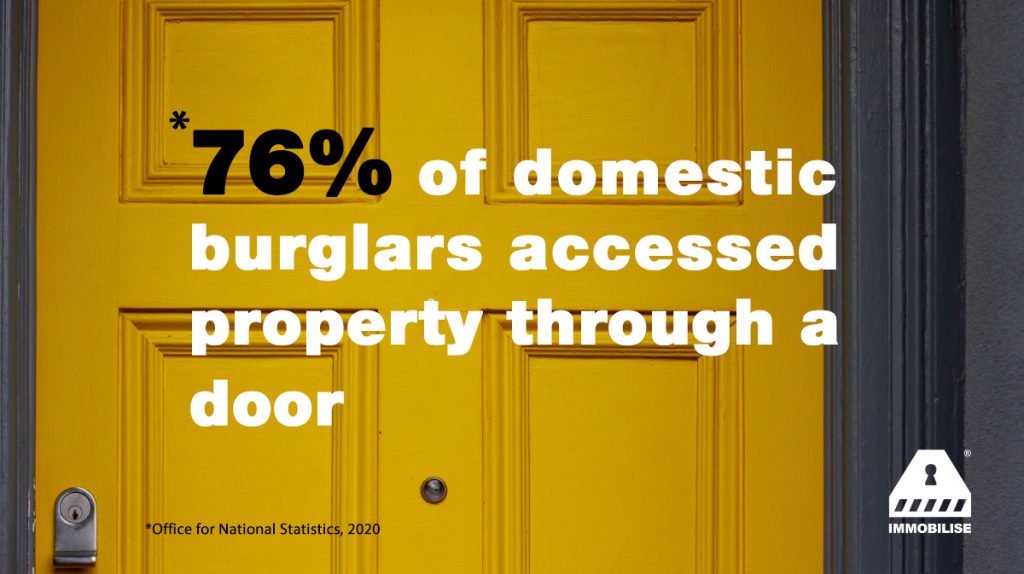 For more about door security: https://www.homesecuritymonth.com/nhsm21-front-door…/
#NHSM21#ImmobiliseCrime#CrimePrevention#HomeSecurity
#SafeHome
---
07 Oct 2021 14:22:23
We're proud to be supporting National Home Security Month this October, helping to raise awareness around the importance of good security amongst homeowners – especially as the nights draw in. For a wealth of resources to help you learn how to secure your home, whether you're looking for home security hacks, information on the latest security standards, or tips and advice on what products are best to keep you secure, visit www.homesecuritymonth.com/advice

National Home Security Month 2021
#NHSM21 #ProtectWhatMattersMost #ImmobiliseCrime
---
30 Sep 2021 08:09:10
What would you do if you lost or had your keys stolen? For less than a cup of coffee, an ImmobiKey fob with its unique identifier provides the means to reunite you with your lost keys securely. Visit shop.immobilise.com/immobikey-key-tags-and-recovery-service-pack-contains-2-fobs and apply the promotional coupon: IMMOBIKEY21 on checkout to receive £2 off your order.
#CarKeys #LostKeys #Keysecurity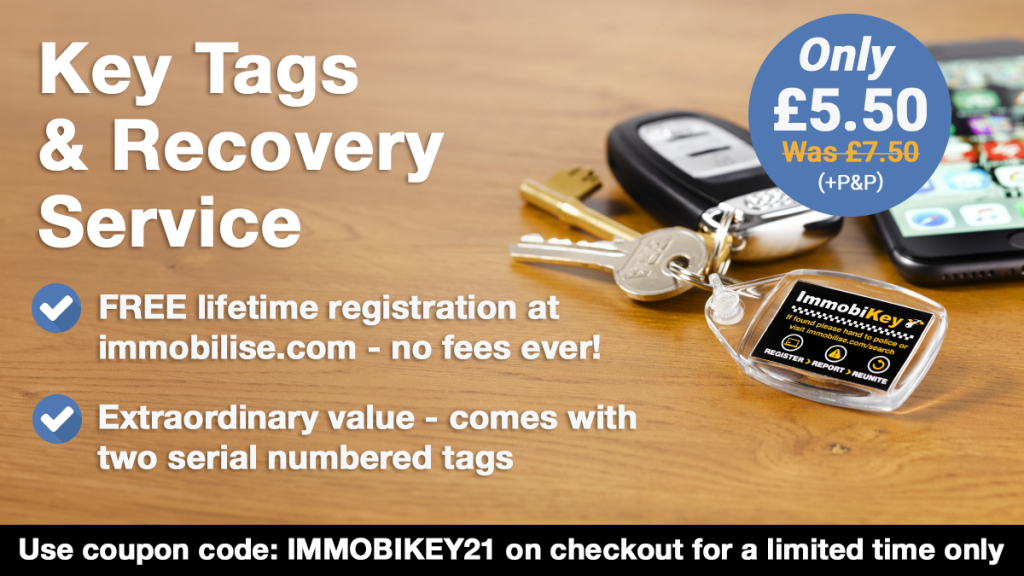 Use coupon code: IMMOBIKEY21 on checkout
---
21 Sep 2021 15:47:12
The nights are drawing in. Check that your shed or garage is secure. Make sure valuables are hidden from view, locked down, marked, and registered on immobilise.com. The opportunist burglar will typically try a shed or garage first to find the tools they need to break into the main house, or steal valuables that can make some easy cash.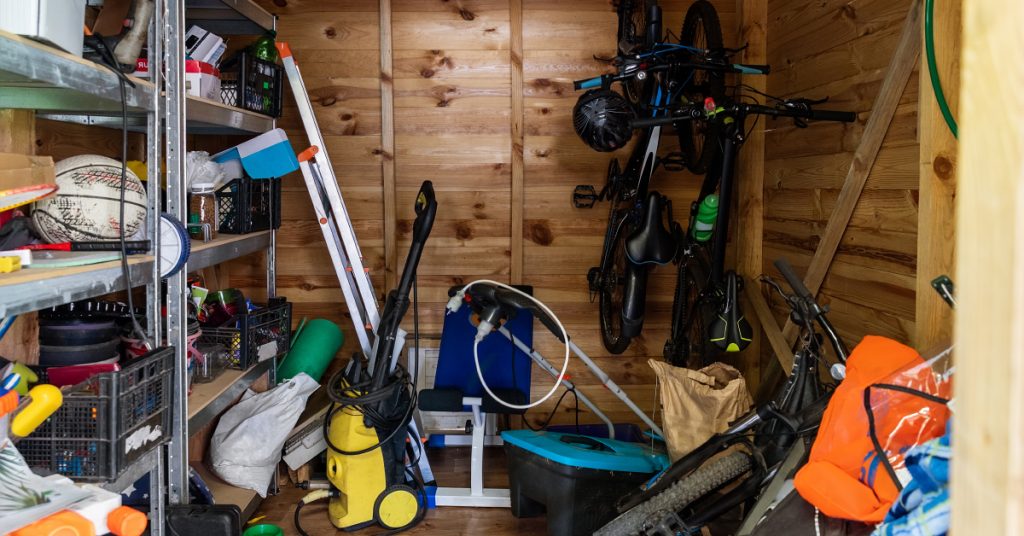 Suburban home wooden storage utility unit shed with miscellaneous stuff on shelves, bikes, ladder, garden tools, and equipment.
According to Police, the top five most common items stolen from sheds are:
Bikes
Mowers
Sports equipment
Power tools
Garden tools
More advice on keeping your shed and outbuildings safe can be found here: https://www.northwales.police.uk/cp/crime-prevention/protect-home-crime/secure-shed-garage/
#PropertyMarking #CrimePrevention #ImmobiliseCrime
---
14 Sep 2021 09:02:43
Great advice from @IOWightPolice for festival-goers. Police are doing their part to keep your stuff in your hands. Help them to help you by registering at immobilise.com now. Enjoy the festival!

@IsleOfWightFest #IOW2021 #cinchxIOW #PropertyMarking #CrimePrevention #ImmobiliseCrime
---
16 Jun 2021 15:10:23
We hope you don't lose your stuff, but if you do, remember Report My Loss. Checkout our short video for some more information.
---