12 Sep 2016 15:03:35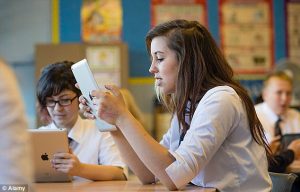 When the school gates opened for the new term, its estimated that under 16s' bags contained over £3.2 billion worth of tech – a staggering average in excess of £270 per school bag*. Such high values intensify issues associated with loss and theft requiring students to be ever more cautious.
To stay safe and secure we recommend …
Students shouldn't leave their smartphones, cameras, iPods and tablets unattended, and when not in use they should be kept secure in a locked bag or locker.
Don't show off expensive devices, especially in public spaces. Children and young teenagers make easy targets for unscrupulous thieves.
Ensure gadgets are registered on Immobilise,  recording the make, model,  and any serial codes but most importantly for smartphones the IMEI number – for mobiles just key in *#06#  on the handset to display the IMEI.
Bicycles should be kept in the school's designated areas and secured with a D-lock to an immovable object such as ground mounted loop. Don't forget to register the bike on Immobilise and consider enhancing the registration with an ImmobiTag RFID tag.
* Statistics sourced from USwitch Survey: USwitch
This post is an extract from our regular email updates that contain other crime prevention tips and topical news along side special offers and discounts on items in our Immobilise property marking and security products. (Go to: https://shop.immobilise.com/)
To subscribe please update the preferences in your Immobilise account: https://www.immobilise.com/login 
---
21 Dec 2015 16:15:24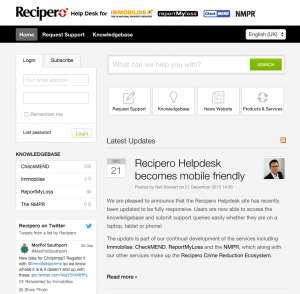 We are pleased to announce that the Recipero Helpdesk website has recently been updated to be fully responsive. Users are now able to access the knowledgebase and submit support queries easily whether they are on a laptop, tablet or phone!
The update is part of our continual development of the services including Immobilise, CheckMEND, ReportMyLoss and the NMPR, which along with our other services make up the Recipero Crime Reduction Ecosystem.
Users continue to be able to email support via the usual addresses published on each of of our product sites if they prefer. However we recommend creating support requests via the support portal, as the solution to many queries may be automatically suggested which in many cases, can answer  queries straight away!
To visit the site now please go to: support.recipero.com
---
21 Dec 2015 14:21:50
Christmas brings the busiest shopping weeks of the year and for many retailers often accounts for 70% of their annual revenue. Stocking our homes with the latest electronic gadgets, jewellery and must-have accessories is commonplace, unfortunately though it provides thieves with an increased incentive to commit burglaries.

10 crime prevention tips you shouldn't ignore…
TIP 1: Deterring would-be criminals is one of the most effective forms of crime prevention. Invest in a motion sensor flood-light or even some outdoor Christmas lights to highlight your home's exterior. This will hopefully make approaching your home too conspicuous for a burglar. Also, highlighting the fact your possessions are security marked and registered on Immobilise using window decals provide a further warning that your goods are traceable and not worth the risk of stealing!
TIP 2: Festive lighting – be secure. A common mistake of many festive decorators is to feed extension cables through partially open windows, criminals know to look for this vulnerability. When it comes to outdoor lighting, opt for solar or battery operated lights or install outdoor electrical outlets.
TIP 3: Dispose of gift packaging carefully. Refuse collections over the Christmas and New Year period are normally at different times. If you can't take packaging to a recycling point, make sure you only put your rubbish out just before the collection and do your best to break apart boxes so that they do not advertise your new contents of your home to thieves!
TIP 4: Be careful not to advertise your home to burglars on social media! According to one recent study, social media is a commonly used tool for scouting potential targets. Social media savvy families have a tendency to publish their whereabouts during the holiday season, including any vacation plans. This can let burglars know when your house is going to be empty. Uploaded photos of pricey Christmas gifts can also be a problem as if privacy settings aren't tied down, it can allow burglars to go shopping just by viewing your Facebook profile.
TIP 5: Check doors and windows for weak spots. Government statistics show that 30% of burglaries happen through windows. Installing a few dead-bolts and new window hinges could increase the security of your home exponentially.
TIP 6: Keep your curtains, drapes and window blinds closed at night, making sure valuable items are out of sight. When going out for the evening make use of inexpensive timers to give the illusion of occupancy, you should also consider leaving a radio on or go further and invest in a Fake TV device to emulate the light given of by at television.
TIP 7: Away over Christmas – plan ahead! If you're going away at Christmas be sure to cancel newspaper or milk subscriptions. Arrange for a neighbour to park on the driveway to help create the impression someone is home. Don't leave overly descriptive telephone answering machine messages and again make use of light timers, radios and devices like Fake TV's.
TIP 8: Secure garages and sheds. Make sure that garden tools or ladders that could be used to force entry into your home are not left lying around or accessible from an unlocked garden shed. Garages are often targets for burglars looking for tools, bikes and gardening equipment – make sure the garage is secure and your possessions are secured too in the case of bikes and tools. Naturally make sure anything portable / valuable is recorded on immobilise.
TIP 9: Don't hide keys and use alarms if you have them. Burglars know to look for hidden door keys so don't hide spare keys under rocks, in flowerpots, or above door ledges. Instead give the spare key to family or trusted neighbour. Many houses these days have alarms, many though are rarely set, make sure yours is on and protecting your home when you are away and overnight where possible.
TIP 10: And lastly, don't forget to register your gifts on Immobilise (www.immobilise.com)! Most gadgets have a unique identification code such as a serial number or for mobile phones an IMEI number – This IMEI number can be found quickly and easily by pressing the following keys on your mobile handset: *#06#. If your gift doesn't have a unique identifier there are several affordable marking kits available from the Immobilise store allowing the police to easily identify the owners of items they recover and so detect crime.
We hope that you find these tips useful and encourage you to share them with your family, friends and colleagues. As always please remain vigilant and report suspicious activity immediately to the police on 999 if a crime is in progress, 101 in a non-emergency or Crimestoppers, anonymously on 0800 555 111.
---